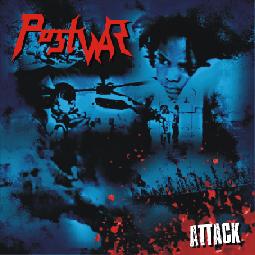 BANDA:
Postwar
ALBUM: Attack
LOCAL: SANTO ANDRÉ - SP
GÊNERO: THRASHÃO DO CARALHO
ANO: 2006
SITE:
http://www.myspace.com/postwarmetal
MEMBROS:
Cleber Orsioli - Vocals, Guitar (também toca no Andralls)
Marcio Garcia - Guitar
Bruno Amorim - Bass, Vocals
Elvis Santos - Drums
FAIXAS:
1. Save Your Sinful God
2. The Punishment
3. Evil Leader
4. The Doomsday
5. Tyranny
DOWNLOAD Postwar - Attack:
http://rapidshare.com/files/105724446/Postwar_-_Attack.rar
NOTAS:
Excelente grupo vindo de Santo André (ABC paulista).
O grupo é parte dessa leva de bandas que apostam na maravilhosa química Slayer + Pantera + personalidade própria para fazer thrash metal.
A banda foi criada em 2001 passou por aquelas costumeiras mudanças de formação e chegaram a encerrar as atividades por um ano em 2004.
A decisão de encerrar o trabalho do grupo foi repensado e voltaram em 2005 com a demo Attack. A produção da demo é boa e as composições melhores ainda.
Realmente em algumas passagens percebe-se a influencia de Slayer e Pantera o que qualifica e muito o trabalho da rapazeada.
O cd começa muito bem com "Save Your Sinful God", outro bom momento é a slayeriana "Evil Leader".
Musicalmente os músicos são muito bons, com instrumental bem trabalhado, bases que empolgam e a voz de Cleber Orsioli têm a personalidade que as letras e a banda pede.
O Postwar é uma banda muito indicada para quem acompanha essa nova safra de grupos thrash que o país produz.



Guest:
Mauricio Rodrigues - Guitar

Additional information on Attack:
Backing Vocals on "The Punishment" by POSTWAR + Ardiles Guerra + Edirlei Moraes
+ Daniel Tossato.
All guitars recorded by Cleber Orsioli except: Right Side Guitar + 2nd Solo on
"The Punishment" + 1st Clean Guitar & Solo on "Evil Leader" + 2nd Guitar Solo on
"Tyranny" by Mauricio Rodrigues