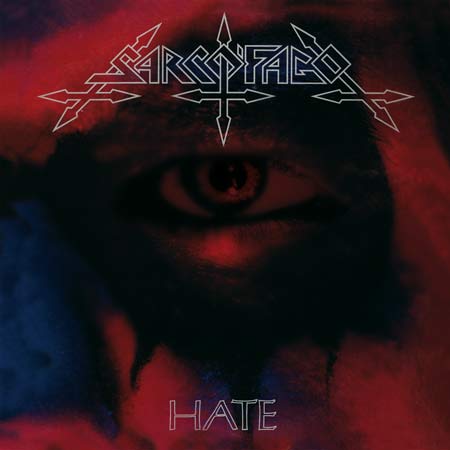 Banda:
Sarcófago
Album: Hate
Ano: 1994
Gênero: Black Death Thrash
Local: BH - Brasil
Membros:
W.L. - all guitars and vomits
G.M. - bass and backing vocals
D.Z. - drums and machine gun
Faixas:
01. Intro / Song For My Death
02. Pact Of Cum
03. The God's Faeces
04. Satanic Terrorism
05. Orgy Of Flies
06. Hate
07. The Phantom
08. Rhabdovirus (The Pitbull's Curse)
09. Anal Vomit
10. The Beggar's Uprising
DOWNLOAD Sarcófago - Hate - 1994:
http://www.megaupload.com/?d=R0C45YLT

OU

http://www.4shared.com/file/80441220/6500ac9f/Hate_By_Urbanoise.html
NOTAS:
Em 94, eles soltam "Hate", que a crítica qualifica como um regresso, já que eles voltam a usar maquiagens monstruosas e blasfemar nas letras. A idéia dos integrantes era fazer músicas velozes, por isso a bateria eletrônica. Para não dizer que tudo estava perdido, "Orgy of Flies" e "God's Faces" são boas músicas (que por curiosidade não foram feitas em alta velocidade).
Nesta época, o Sarcófago viveu um grande dilema, pois se eles reconquistavam o público da época de " I.N.R.I", perderiam o que eles havia conquistado em sua fase mais "light" (se assim podemos dizer).

Recorded at Dramma Studio and Polifonia Studio between January-March, 1994,
Belo Horizonte-MG, Brazil.
All keyboards by Eugenio. Lead guitars on "Hate" by Eduardo Paulista (Chakal).
Backing vocals by Marcos (Divine Death) - "Orgy Of Flies", "Satanic Terrorism"
and "Song For My Death".
Backing vocals by Andreia - "Hate"
Backing vocals by Tarso - "The Beggar's Uprising"
All music by Sarcófago
All lyrics by W.L. except "Song For My Death" and "Satanic Terrorism" by W.L.
and Celio Alves

Remastered and re-released in 2005 by Cogumelo Records with a slightly
different cover.